Post by jp on Mar 24, 2023 19:43:01 GMT
So 1991 finished on a slightly disappointing 3 stars meaning our 1990s leaderboard currently looks like this...
1990 - 3.75
1991 - 3
a pretty exciting battle i'm sure you agree.
this week we are going to be looking at...1992!!!
1992 for me instantly brings to mind the Barcelona Olympics. It's the first one I remember watching and I had Olympic Gold on my Master System and played it religiously.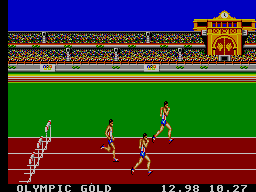 Another sporting memory of 92 is England's terrible Euros though I'm sure Meinby will be along soon with a 5 star rating for Denmark. It also saw the beginning of the end of football with Premier League taking over. 1992 also saw arguably the greatest Royal Rumble match of all time. I had it on vhs and would watch that event over and over.
My top 3 albums of 1992 would be...
Pavement - Slanted and Enchanted
Lemonheads - It's a Shame About Ray
Sonic Youth - Dirty
In fact it was a really good year musically with loads of other great albums like Going Blank Again, Bizarre Ride II Pharcyde, Mecca and the Soul Brother, Honey's Dead etc
Film wise Reservoir Dogs and Wayne's World are the big standouts. Now obviously I didn't see Reservoir Dogs until many years later but I remember borrowing the VHS of Wayne's World and Home Alone from my cousin in 92 and them both changing my life. I probably wasn't massively into films before this point but they both had a huge impact on me.
In terms of what I was actually watching and listening to around this time, I think I was fairly obsessed with Teenage Mutant Ninja Turtles at this point. 1992 was also the debut of a cult UK tv classic that I absolutely loved... GAMESMASTER. I also remember my uncle getting married and 7 year old JP writing about it at school the following week. I wrote that "we all covered his car in condoms" and my teacher called my Mum in for a "chat"
All in all I'd have to give 1992 another 4.